Trends Shaping The Future Of Digital Signage Systems
With the rise in technology, businesses are recognizing the potential benefit of digital signage. These systems are transforming the ways businesses promote their products. They offer visual experiences across numerous industries, including advertising, public relations, manufacturing, finance, education, entertainment, hospitality, and healthcare.
Digital signage solutions are becoming increasingly popular as they help improve customer engagement, enhance brand image, and drive sales.

Statistics related to Digital Signage:
The digital signage market is expected to reach USD 87.46 billion by 2028, growing at a CAGR of 17.3% from 2020 to 2028.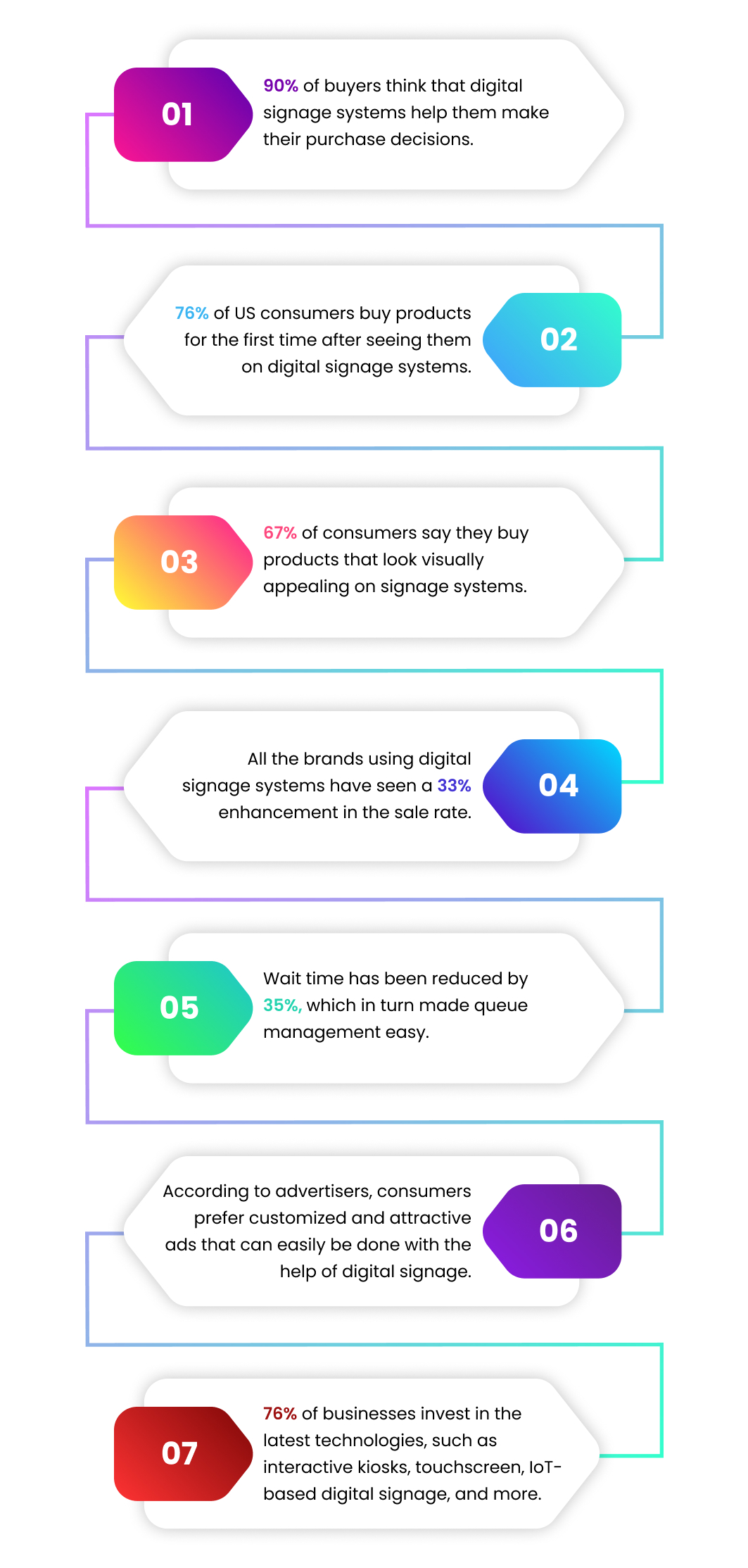 Examples of Digital Signage
Digital Signage systems convey the brand's message easily to the customers, hence enhancing brand recognition. It is a great way to promote and share product information and enhance consumer experience.
Let us look at the examples of digital signage.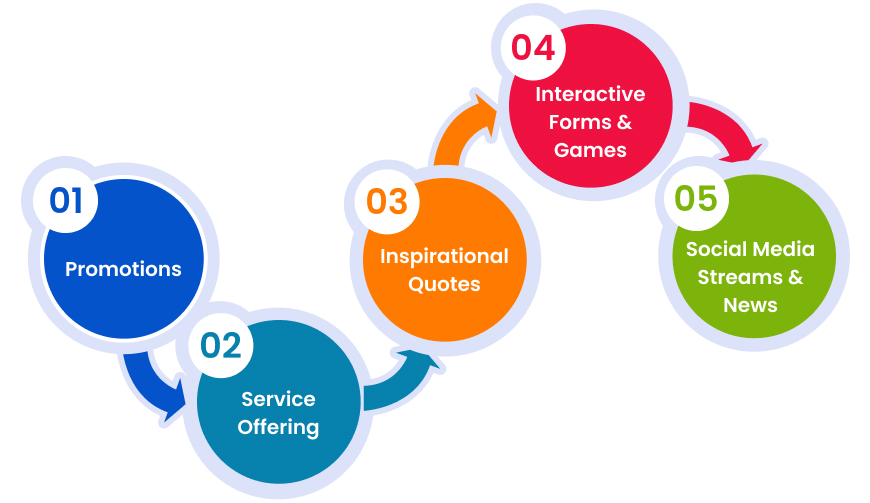 Promotions: Digital signage displays help businesses promote their products, services, sales, and more. Multimedia screens not only use rotating graphics but also use video and animations in their digital signage content. The most common business that uses digital signage systems is retail.

Service Offerings: Fixed displays or paper menus are the traditional methods of service offerings. While they are still in use, businesses are moving towards digital signage systems as they are more attractive and powerful. Digital signage systems allow restaurants, salons, spas, auto repair shops, and other businesses to show their services with rotating content.

Inspirational Quotes: Digital systems are not limited to advertisements. Businesses can use them to inform, entertain, and inspire their customers. Inspirational quotes make your signage system more attractive and engaging. Such a quote can put customers in a light mood. These are more effective in the places such as gyms, healthcare, institutes, and more, to boost productivity by keeping your customers motivated.

Interactive Forms and Games: The use cases of display screens are a lot. These screens offer the most profound solution to connect to your audience by offering them numerous ways of entertainment. They allow users to play games, select content, and subscribe to newsletters. This is one of the finest ways of collecting information from the guests.

Social Media Streams and News: Sync the screens with social media such as Facebook, Twitter, and Instagram, and collect the data that can help you enhance your visibility to the world. This helps you get more leads and empower your business.
Future of Digital Signage
Here are a few trends that are set to shape the future of digital signage: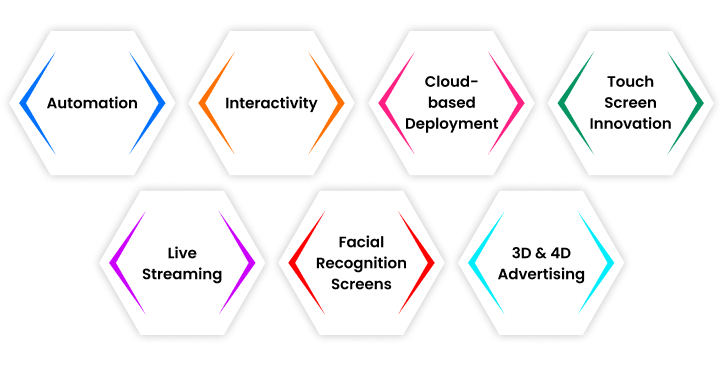 Automation: Digital Signage Systems use automation to play media content at a scheduled time based on external triggers such as external data feeds, user interactions, or changes in environmental conditions. This automation allows 24/7 operation without manual interference and enables dynamic content that adapts to changing circumstances.
The automation in Digital Signage includes components like Scheduling Software, Content Management Systems (CMS), and Hardware components like media players and sensors. These components enable remote management and monitoring. Thus, automation in Digital Signage creates solutions that deliver powerful visual communications applications in multiple vertical markets.

Interactivity: Interactivity allows users to interact physically or virtually via touchscreens or gestures. It includes accessing additional information or multimedia content.
Interactive digital signage offers users customized content using engaging physical and virtual input devices. These systems allow businesses, advertisers, schools, hospitals, museums, or retail shops to communicate more effectively with their target audiences. With the help of enhanced visual displays, businesses can attract potential buyers.

Cloud-Based Deployment: Cloud-based deployment uses cloud computing services to manage and deliver content for digital signage systems. Here, components like player devices display messages on screens, and other features run remotely over the Internet. It allows administrators to control displays from their computers anywhere at any time.
Moreover, other than enterprise functions like integrating databases, many small businesses are using unified sign solutions to offer predefined templates for pharmacies or convenience stores.

Touch Screen Innovation: Touch screen technology enables interaction between users and digital signage systems through touch inputs. Users can manipulate images and graphics displayed on the screen by simply tapping, swiping, or scrolling. Users can also input text or numerical values, browse through menus, navigate websites, access contact lists, or make mobile phone calls.
Additionally, touchscreens facilitate seamless integration with RFID tags, card readers, and biometric scanners, ensuring enhanced security measures and user identification. Also, touchscreen displays provide an intuitive interface for accessing crucial information in high-traffic areas or crowded venues.

Livestreaming: Livestreaming refers to broadcasting video content directly from one location to another via the Internet in real-time. Live streaming helps display live streams of events on signs and displays in public spaces or businesses. It includes events such as concerts, conferences, sports games, and more.
For example, a retail store may showcase live fashion shows or product launches on its screens, while airports or train stations might stream news updates or weather forecasts.

Facial Recognition Screens: Facial recognition screens are interactive displays with built-in cameras and facial recognition software. These solutions leverage facial recognition to identify individuals and provide personalized experiences tailored to them.
Facial recognition screens help with targeted advertising, access control, or personalization of information based on customer identity. By recognizing individuals through machine vision or computer vision techniques, digital signage systems deliver highly customizable content experiences.

3D and 4D Advertising: 3D advertising in a digital signage system creates multimedia content and makes it appear more realistic. With advances in technology, such as wearable devices, and advanced computing power, retail centers are opting for 3-D advertising to get the attention of their customers and increase engagement with their messaging. This allows consumers to experience a more engaging visual representation of the products and services.
The use of augmented reality (AR), virtual reality (VR), and mixed reality (MR) technologies has further expanded the possibilities of 3D advertising. Overall, 3D advertising helps to differentiate a brand from its competitors and capture the attention of potential customers. However, implementing 3D advertising in a digital signage system has some challenges, primarily around cost, equipment compatibility, and maintenance.
Benefits of Digital Signage Systems
Digital signage systems offer many advantages over traditional static signs. These have helped many businesses increase their customers' visibility. Here are some reasons why you might consider implementing a digital signage system: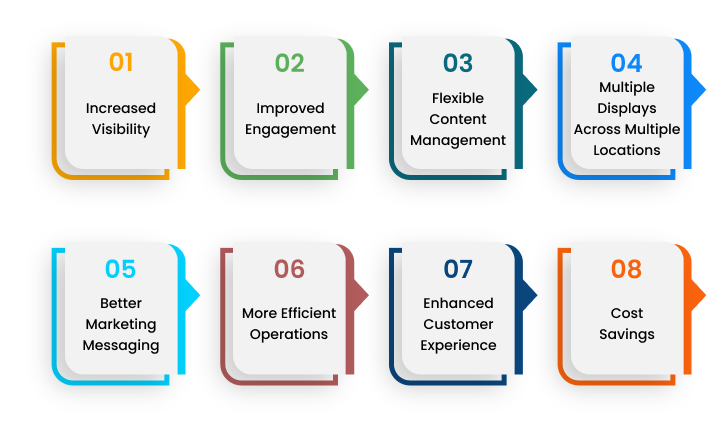 Increased Visibility: A digital sign can display dynamic content such as animations, videos, graphics, text, etc, which draws user attention. With the ability to change messages easily and quickly, businesses can target different audiences at different times.
Improved Engagement: Digital signs are dynamic and eye-catching, which can capture the attention of new or targeted customers and create more engagement with your brand. You can use animations, video clips, interactive features, and more to make your content stand out and draw people into your store.
Flexible Content Management: Digital signage uses a centralized platform that allows quick and easy updates through remote management. This saves time and provides a more efficient and seamless operation. Furthermore, with the integration of data feed technology like social media streams, real-time clock or weather updates, local news, and more, business owners can provide updated and relevant content to customers.
Multiple Displays Across Multiple Locations: One major advantage of digital signage systems is their ability to adapt. Business owners have the option to install displays across multiple locations, allowing them to change the messages according to the location. These screens offer great opportunities for brands to connect with customers effectively and leverage technology.
Better Marketing Messaging: With digital signage, you have complete control over the messages displayed. Businesses can easily update them according to current promotions and campaigns. This makes it easier to adjust your marketing messaging based on real-time customer data and social media metrics.
More Efficient Operations: Digital signage helps streamline operational processes by automating routine tasks such as displaying product catalogs, banners, and company news. For example, retail managers can centralize and manage multiple displays across locations, saving time and ensuring consistency.
Enhanced Customer Experience: By using camera sensors and geolocation data analysis, digital signage can offer personalized ads and relevant content. Consumers receive suggestions related to their preferred brands and products, making their shopping experience simpler and faster.
Cost Savings: While there may be initial costs associated with purchasing hardware, designing creative assets, network setup, software integration, and installation fees, businesses often see significant cost savings over time.

The Bottom Line:
In the future, we will see an exponential rise in digital signage systems. With the rapid adoption of high-resolution screens, these systems will become the core component of marketing strategies. Moreover, technology is constantly evolving, changing the ways we interact with screens.
Furthermore, there is tough competition in the market, making it mandatory for businesses to opt for these systems.
If you are looking for the best digital signage service providers, look no further than jiWebTech. We are a global leader in software solutions and have helped businesses of all sizes grow.
To learn more, contact us.