Enhance Your Shopping Experience With Digital Signage Solutions
Screens are one of the most robust ways that allow you to share information and let your customers stay updated. Whether it is banking, retail, stadiums, airports, universities, or other public space-leveraging the benefits of digital signage are helping all sectors to grow.
The signage offer users with the best experience, who are more likely to view the messages and remember them for a longer time. The trend is already picking up, and retailers are incorporating interactive technologies so that customers can enjoy a blended experience.
As per research, the digital signage industry will reach USD 27.34 Billion by 2022. It means a growth rate of 6.7% between 2016 and 2022.
It indicates that retail businesses must invest in technology and innovation.
If you are thinking to invest in digital signage for your retail sector, the blog covers all the details.
Importance of Digital Signage
The graphic displays convey the appropriate information to the users and act as a medium. Road signs, wayfinding, and safety signs are a few examples we come across every day.
In the retail sector, digital signage can display working hours, information about offers and discounts, deals, and more. These are appealing advertisements, that serve the purpose of a promotional campaign, advertisement, and brand identity. It attracts users and raises awareness.
The graph indicates the use and rise of digital signage solutions for different industries in the US.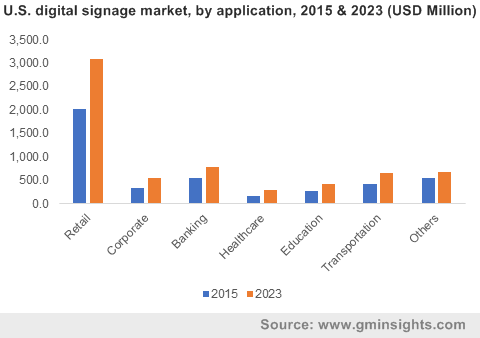 Benefits of Digital Signage in Retail
Are you confused about implementing digital signage solutions and how they affect your store? Check out all the benefits here:
1. It keeps your audience informed
Digital signage act as a robust solution that helps to advertise your products, display offers and promotions, and a lot more. So, in brief, when the user visits, you can inform and update about every piece of information. It offers customization to your audience, so you can choose what information you want to show your customers. The store owner can schedule the content as per their needs.
2. Provides in-store entertainment.
Keeping the customers entertained is the key that can prove to do wonders for you. As per a study by Urban Land Institute, 70% of millennial women and 50% of millennial men find shopping as a form of entertainment. With digital displays, customers stay entertained. You can display images, videos, and a lot more.
3. Boosts Brand Awareness
Online presence is one of the most powerful tools that boost the awareness of your brand or store. And retailers need to work hard to expand their online presence. Digital signage allows you to reach your potential customers without any hassle and interruptions.
Digital signage makes your brand more attractive, and users remember what is on the screen. It increases the chances of their retention, and they keep coming back to your store.
4. Increase your sales
The user does not face any hassle. They are least confused and get a smoother shopping experience. Therefore, this benefits the stores and can boost sales. As the customers can get all the information on the screen, they feel more confident making the right shopping decision.
5. Offers Self serve kiosks
Every industry is adopting a self-service kiosk which is one of the most versatile options. Many stores prefer integrating a kiosk, that serves as a virtual catalog of their products. The users can find the products themselves and check for the prices. They can get additional information too!
6. Announcements, launch, and promote products
Digital signage acts as a medium and a marketing channel where customers can stay updated about the latest announcements, launches, and promotions of products.
Achieve Digital Transformation in Retail with us!
Retailers must integrate the latest tools and technologies. It offers a seamless, safe and engaging experience to the users.
Do you need eye-catching and vibrating digital signage solutions, we can help you with that, jiWebTech has over a decade of experience in digital signage solutions and customer engagement to drive growth for your retail business!