Top Restaurant Management Challenges In 2023
Today, with the advancement of technologies, food industries are opting for online ways to run successfully. The restaurant industry is highly dynamic and faces many challenges when it comes to the management of restaurant operations.
Managing restaurants has become one of the main elements of the food industry. So it is crucial to have a restaurant management system. A restaurant management system is a set of integrated computer applications used in restaurants to streamline internal processes and external interactions. These systems help manage customer orders, table reservations, employee schedules, inventory, and payroll. They can also generate reports on sales, revenue, labor, and food costs to provide insights for better decision-making.
Moreover, they help identify the pain points and the efficient operations required to run a business. The restaurant industry is highly dynamic and faces many challenges that need to be addressed to survive.
Challenges of Restaurant Management
Restaurants are presently facing management challenges, which are hard to overcome. Below are the issues faced by restaurants these days:

Inefficient Staff Management: This is one of the biggest challenges that restaurants are facing. Due to inefficient staff management, many issues arise, including low morale, high employee turnover, and reduced productivity. Inefficient staff management is caused due to the factors such as lack of clear communication, improper staff alignment, insufficient staff training, and more. It results in poor customer service. Not that this can lead to reputation damage, and repel potential customers.
So, it is vital to ensure that the employees are motivated and happy to work. Here are a few tips that help food business owners have effective staff management:
Make employees understand their roles and the expectations that you have from them. Ensure that they are clear about their roles and responsibilities.
Upskill your employees by offering them proper training and on-the-job learning. It helps employees perform better, increasing the efficiency and productivity of the company.
Develop a positive and productive work environment for your employees, and offer them enough space to discuss issues or raise their concerns.
Performance Inconsistency: Another challenge in restaurant management is performance inconsistencies. Performance inconsistency can cause problems with the taste of your food and can cause hygiene issues. It is crucial to maintain consistency in terms of food and hygiene. After the worldwide lockdown, hygiene has become one of the most vital things that people check. Maintaining a clean restaurant should be the priority of the restaurant owners.
Moreover, preparing delicious food is a must. Hygiene and tasty food is today's need and are the most crucial factors that drive sales and maintain loyal customers. So it is vital to develop an attractive menu and show all your dishes that have strong flavors. Maintain the menu in a way that food looks appealing and your customers would like to taste new things.
Additionally, train your chefs and staff so well that they know all the proper techniques to cook food. Ensure that you provide the staff with great recipe information that involves the information of ingredients.
With that, restaurant owners must sterilize their cooking stations and implement proper procedures to keep the restaurant clean. Furthermore, train your staff to keep their hands clean and wear protective headgear and gloves before entering the kitchen.
In addition, try to opt for contactless dining services and utilize QR codes to scan the menu, contactless ordering, and digital payments.
Lack of USP: Every business must have two critical components: a unique selling proposition (USP) and a vast online presence. These components help restaurants to stand out. You can have the best food in the market, but if your USP is weak, you cannot win the market. Numerous restaurants offer great food, but due to a lack of marketing and online presence restaurants are at a loss. Here are a few tips that can help you stand out.
Choose a food niche and differentiate your restaurant based on the niche. With that, you can choose other factors like choosing different themes that include pop culture, etc. Ensure that your restaurant makes people feel comfortable.
Understand your customers and try to find creative ways to fulfill their needs.
Ensure that your brand is visible enough. You can put the logo on the menu so that your customers can see your logo. It helps your customer recognize your brand outside the restaurant.
You can follow the following techniques to enhance your online presence:
Opt for a comprehensive digital marketing strategy that involves paid media to increase customers' reach.
Have your website and app. It lowers third-party dependence.
List your business profile on Google Business profile. It helps you increase the product's visibility.
Inability to make a decision: Knowing your restaurant's performance is crucial. This help businesses make important decisions related to their restaurants. Moreover, it is vital to ensure that you keep track of your daily operations such as revenue generated per day, inventory, production plan per week, ingredients cost, and more. You must ensure that every process that happens in a restaurant has a chain reaction. One process directly affects the other. So it is crucial to keep track of every process and make every decision wisely. A few ways to make a better decision are as follows:
Instead of making gut-based decisions, ensure to rely on reports. Analytic reports give deep insights into how your restaurant is performing.
Ensure to have sales reports of everyday sales, payment methods, and more.
Keep a check on production reports. These reports help you understand how much you need to spend.
Stock Theft: Stock theft is one of the main threats to restaurant businesses. A report says that restaurant owners suffer billions of dollars in losses per year. It is crucial to identify and prevent internal theft. According to a survey, stock theft leads to 75% of the inventory shortage, which leads to a revenue loss of 4%. It is vital to trust your staff, but it does not mean you have to trust them. Identify the signs at an early stage and have crucial tools in place to prevent theft.
Stock in Multiple Branches: Managing stock in multiple branches presents unique challenges to restaurants. Many times, these branches are not in synchronization with each other. Some problems associated with stock in multi-branch restaurants include:
Difficulty Coordinating Between Locations: Since inventory is spread across multiple branches, it can be tough to manage supplies effectively. Tracking the movement of goods can become complicated and time-consuming. It leads to potential discrepancies and shortages.
Inefficient Communication Channels: Clear communication channels are needed among staff members, who are handling stock and inventory records. Otherwise, miscommunications can occur due to differences in language or cultural norms. Inefficient communication leads to confusion regarding product usage rates that would negatively impact inventory planning practices.
Varying Prices: Various suppliers offering varying prices and inventory availabilities could lead to inconsistency in pricing and sourcing strategies. Ensuring consistent products in terms of ingredients, formulation, packaging, and brand identity across each location is another crucial factor to consider.
Transportation Logistics Complexities: Managing transport vehicles for delivering stock to separate branches is not easy. It raises concerns about cost efficiency and timely delivery schedules. Efficiency and safety risks may arise during loading or unloading activities.
Supplier Management: Successful supplier management is essential for restaurant operators who are looking to minimize costs, optimize menu selections, maintain food freshness, and develop long-term relationships with valued suppliers. But working with a huge network of suppliers can introduce many challenges, including:
Contract Terms: Balancing affordable prices, payment conditions, flexible ordering deadlines, exclusive access, and customized services against volume commitments demands consultancy. For instance, enhancing advance ordering periods improves stability but increases the risk of market price changes eroding discounts over time.
Quality Control and Compliance Matters: Meeting restaurant requirements surrounding food origins, hygiene, and storage conditions need attention to detail. Unwanted additives, outdated ingredients, spoiled items, or incomplete paperwork results in wasted funds and lowers the reputation. So ensure frequent audits and inspections takes place from time to time.
Vendor Selection: Choosing vendors who can meet increasing order levels with minimum stock shortages can be challenging.

How does Restaurant Management System Function?
Restaurant management systems play a vital role in helping restaurants operate smoothly and efficiently. It ensures high levels of customer satisfaction. From taking orders at the table to managing inventory, employee schedules, and financials, restaurant management systems offer comprehensive solutions that streamline every operation that help restaurants succeed.
Offers real-time inventory visibility and control
Automates stock requirement notification
Helps you deal with efficient forecast issues

Types of restaurant management systems
There are several types of restaurant management systems designed to meet different needs of restaurants based on their size, cuisine type, and target audience. Here are some common categories: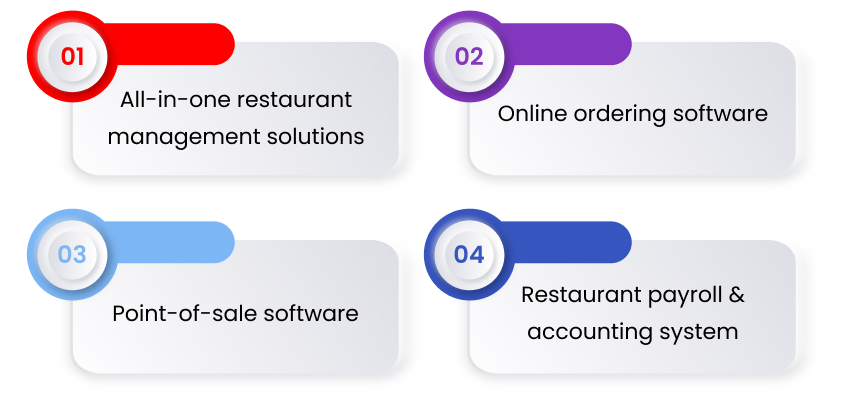 All-in-one restaurant management solutions: An all-in-one restaurant management solution refers to an integrated suite of software tools designed to address various business needs within a single platform. These comprehensive packages provide an array of features tailored specifically to streamline and improve different aspects of restaurant operations.
Point-of-sale software: Point-of-Sale (POS) software is a specific category of restaurant management systems that focus on optimizing front-end operations for quick service. Its primary purpose is streamlining daily transactions between servers and guests at cash registers, tableside devices like mobile order pads, or self-service kiosks. This software connects your kitchen with inventory management, scheduling, or loyalty programs.
Online ordering software: Online ordering software refers to web-based technologies that enable restaurants to receive direct orders placed by customers via their websites, mobile apps, social media channels, or other online marketplaces. This system helps diners can review menus, place food requests remotely, choose preferred pickup times, and make secure electronic payments.
Restaurant payroll and accounting systems: A restaurant's payroll and accounting systems form an integral part of its financial infrastructure. They ensure accurate tracking of revenues, expenses, tax compliance, and employees' compensation while maintaining transparency throughout all financial transactions within the organization.
Conclusion:
Running a restaurant comes with unique challenges that can be difficult to overcome without the proper tools and resources. These challenges range from operational difficulties to managing finances, meeting customer expectations, and keeping employees satisfied.
However, many of these obstacles eliminate if restaurant owners invest in quality management systems tailored to their needs. An efficient restaurant solution supports daily tasks, streamlines communication, and centralizes vital data sources.
So, if you are looking for robust and efficient Restaurant Management Services, look no further than jiWebTech. We offer the most profound and trustworthy restaurant solutions to businesses of all sizes. Our developers have helped numerous businesses worldwide by offering them the perfect solution as per their restaurant needs.