Facts That Make It Necessary For Businesses To Move To Cloud Services
With so many cloud hosting platforms, it is overwhelming to choose the right platform that offers scalability, uptime, and security within the defined budget. Nowadays, almost every business is moving towards cloud hosting services. A report on cloud hosting says that 44% of traditional small businesses, 66% of tech-based small industries, and 74% of large enterprises are moving to cloud hosting services.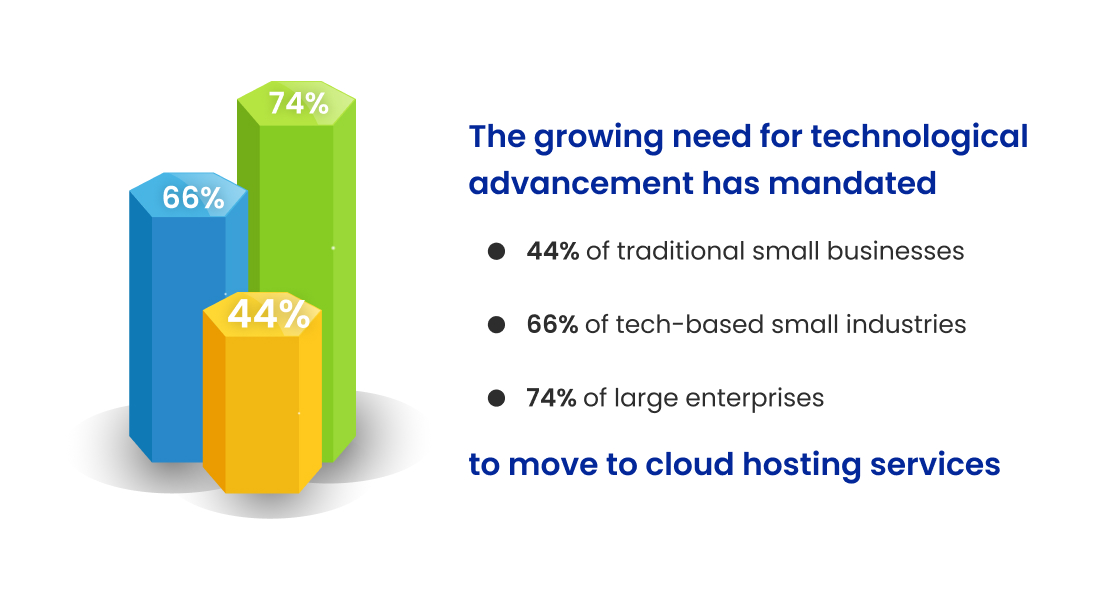 Why are so many businesses are turning to the cloud?
Well moving to the cloud simply means relocating your data, applications, email, or software to the cloud. The cloud makes it easy for users to access their data or information from anywhere at any time with internet access. The cloud is an interconnected network of internet-hosted remote servers that store, manage, and process data. And cloud hosting is a hosting type that converts a physical server into multiple virtual servers that connect to create a single network for hosting a website. Also, it allows a website to use the resources of multiple servers.
Moreover, cloud hosting uses the computing power of multiple machines, which makes it more powerful than traditional hosting. This article simplifies cloud hosting and introduces you to the facts that drive the need for cloud hosting.
Facts that drive the need for cloud hosting
Here are a few facts that drive the need for cloud hosting among businesses.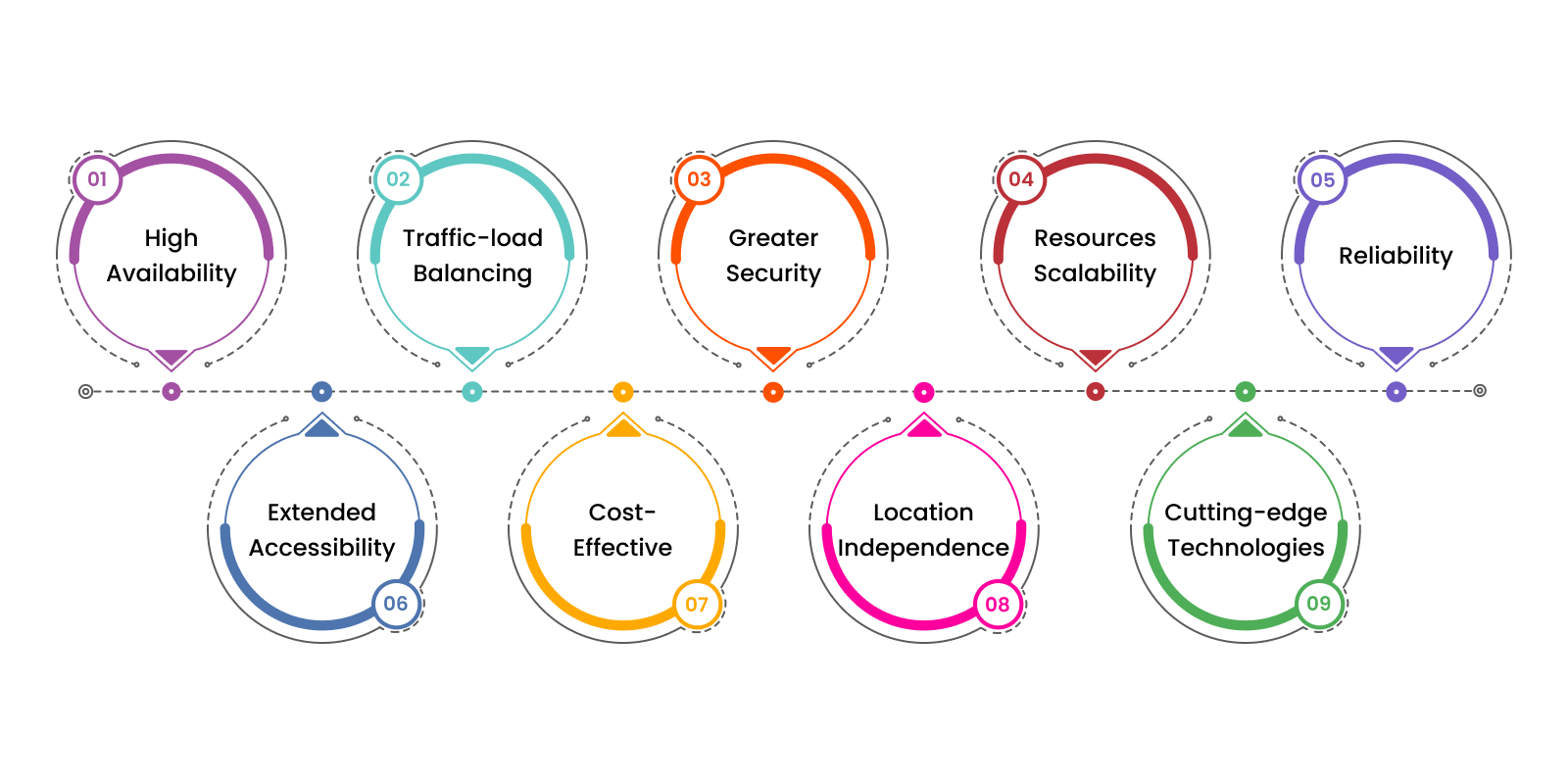 Let us explain all these above-mentioned points in detail.
High Availability: Cloud hosting delivers high availability of the servers even after a server fails. It offers the functionality of using multiple servers. If one fails, the other servers will cover the failed one. It makes your website available 24*7 to the users. The collection of servers working together as a single server is known as a cluster, and it ensures the continuous availability of the server to the users. Many servers share the same website data so that if one goes down, the others will cover it. The number of the cluster can range from two to dozens.
Traffic-Load Balancing: High available clusters do the load balancing, i.e. they ensure the balance of workloads. And checks that no server in the cluster is damaged and helps you give a more stable performance. Furthermore, when a website receives more traffic than usual, the infrastructure across the cloud servers is expanded. That in turn, improves the site's performance.
Greater Security: Cloud hosting services provider companies follow strict security rules and industry-standard best practices. And each node in the private cloud hosting offers a secure barrier for your information. Additionally, Cloud hosting uses multiple servers in a single virtual environment, which makes it less prone to damage. Also, its cloud hosting has a load balancing feature that makes it capable of protecting the systems from Distributed denial of service (DDoS) attacks, which involves multiple connected online devices. The cloud hosting services include:
Secure socket layer (SSL) protection
Backups and data encryption
Resources with a wide range of capacities
Authentication with many factors
Resources Scalability: It is easy and feasible to assign resources that are required by an organization with cloud hosting. It gives the option to add or remove storage, bandwidth, and RAM from the cluster of servers based on the available resources. Traditionally, resources had strict requirements and limited resources. But with cloud hosting, it is not the case.
Reliability: Cloud hosting is more reliable than traditional hosting. It guarantees a 99.995% uptime, and the apps or the service are 24*7 operational. Users can access the data at any time and from anywhere using any device that has the internet. Moreover, there are no interruptions, and the connection is safe and sound.
Extended Accessibility: Cloud hosting offers business tools and resources that are accessible from anywhere at any time. Furthermore, there is no downtime because of clusters, which we have already discussed, and scheduled maintenance. Also, the tools and resources are ready for you and your team no matter where and when you need them, also internet connectivity is not an issue.
Cost-Effective: Businesses do not have to invest in any infrastructure, as there are no capital expenditures involved. Also, users only have to pay for the resources or services your website consumes. Moreover, you must pay a fixed monthly fee whether you use the services or not.
Location Independence: Traditionally, the hosting servers were bound to a single location, or in simple terms, we can say that they were location-based. So you must be careful when selecting your server, as the location of the server influences a website's loading speed. In addition, cloud hosting servers are located worldwide using an internet connection.
Cutting-Edge Technologies: Traditionally, hosting did not allow customizing as per business needs which were fixed. But cloud hosting uses the top and latest technologies. It allows businesses to personalize and integrate their software programs as per their business needs and preferences.
Types of websites using Cloud Hosting
E-commerce stores
News publications
Search engines
Social networks
Any other high-traffic projects

Factors to consider while choosing the best cloud hosting provider
Let us know how to choose the best cloud hosting provider that will help you meet their unique business requirements. Before selecting the cloud hosting provider, you must evaluate your current needs and ensure that goals must align with your provider.
Let us look at these points in detail.
Supporting Technologies: It is suggested to choose a cloud service provider that supports the technologies that are used in your organization. Most cloud services offer limited support, and to fill the gaps, you must take the help of third-party partners. Before choosing any service provider, ask yourself:
Do the architecture, standards, and services provided by the service providers support your workloads and management preferences?
What are their plans for the future in terms of growth?
Does their vision support yours?
Has the cloud provider done the same deployment as the ones that you are planning?
Do they have a portfolio?
Asking such questions before choosing a vendor. These questions can help you choose the right provider that helps you achieve your vision.
Pricing Plans: Consider the cost of use that involves upfront cost or pay-as-you-go. Also, ask the service provider if there is any other cost or minimums involved. It can include volume discounts, reservations on service, type of billing, and more. Also, it is seen that many cloud providers offer aggressive pricing to first customers. So, ensure that you pay careful attention to the prices that are offered to you.
Security: After the budget, security is the next thing that comes to the mind of organizations before considering any service provider. Organizations must consider factors such as robust security, integrity checks, and the roles/responsibility of each party. Also, some service providers offer free or paid services or integrations. So ensure that you consider looking into areas such as authentication, identity management, and access controls, where data is stored.
Compliance: This is another essential aspect that can not be ignored while choosing a service provider. Businesses must consider the implications of federal, state, and industry regulations. Ensure that the provider you are choosing must have a statement of shared compliance. And must be able to answer questions related to compliance with a specific regulation. Each regulation has its requirements around breach response and reporting. It includes:
Health Insurance Portability and Accountability (HIPAA)
General Data Protection Regulation is a Regulation (GDPR)
International Organization for Standardization (ISO)
Tools and Features: Different cloud service providers offer different features based on their capabilities or include other add-ons. Ensure that you choose the provider that offers services that fulfill your requirements and also provides features such as computing resources, monitoring, security, deployment, and others.
Business Compatibility and Architecture: Choosing the services that match the organization's technical and operational goals is crucial. Moreover, consider the cloud architecture that incorporates all the latest and existing technologies or services within the organization. Also, ensure to choose the service provider that supports current and future needs.
Contract, SLAs, and migration support: Ensure review of the contract and SLAs properly. Moreover, ensure that the cloud provider offers migration. Most services incorporate assessment tools that help you in migration using specific tools and support database, server, and application migration.
Data Governance and project size: Data governance defines the policies and controls of the cloud services in areas of privacy and security. Also, it defines the cost usage. Moreover, the project's size, scope, and goals will place different requirements on the cloud service provider.
Cloud features empowering your business
Here are a few features that empower your business.
Auto scalability: Our cloud services offer auto-scaling features. And you never face server-down issues as we upgrade resources in the live environment.
Pay-per-consume model: Pay-per-consume model enables organizations to pay for the used resources only. Moreover, the transparency in the Pay-per-consume billing model eliminates the cost of unused resources and hidden charges.
Live Migration: With jiWebTech's cloud, there is no need for a reboot while migrating to another server, upgrading, or auto-scaling.
Flexibility: Businesses can customize, match, and ask for features as per their requirements. It ensures you get the flexibility you like. From deployment through dynamic resources and scheduling, we empower our users by giving them a business-ready cloud.
Challenges of choosing a cloud service provider
Here are a few challenges that are seen while choosing a cloud service provider. Let us explain these in detail.
Varying Performance: It is seen that the actual performance might vary from what is promised, and businesses fall for those providers who fail to deliver performance as business requirements. So it is suggested to be very careful before choosing a service provider.
Lack of technical compatibility: To walk with the competition in the market, businesses need to integrate new technologies into their business process. Moreover, it is not important that all the cloud services are compatible with your needs.
Cybersecurity threats: Every business fears cyber threats, and cloud computing enhances the fears of cyber-attacks. However, security can improve by choosing the right cloud service provider.
Lack of support: Every business faces challenges when technology comes into the market. Ensure that you choose expert service providers who can change according to the technology.
To summarize
Cloud hosting is the finest web-hosting alternative for businesses. From data storage to simple financial processing, the cloud infrastructure is a great go-to system for businesses in all industries, regardless the size. When a business moves to the cloud, it eliminates the extra investment that goes into redundant infrastructure.
Lastly, before turning to the cloud, businesses must know that it is necessary to have skill sets to understand all the functionalities involved. In today's era, businesses run the risk of falling behind the competition by not moving to the cloud.
So, it is essential to choose the cloud hosting service providers that can help you manage your cloud systems properly, keep your company's systems safe, and ensure that you grow globally.
Are you looking for reliable cloud hosting service providers? Look no further than jiWebTech's Cloud Hosting Solution. Get in touch with us and take advantage of our expertise.