How Talent Management Solutions Help Employers To Retain A Good Employee?
A good employee is an asset to the organization and, losing one is the most terrible thing. Not only, it becomes difficult to replace the candidate, it also the uncertainty about how a new employee will work out. There is no guarantee that the employee will stay in your organization, however hard you ever try, or whatever status your organization has.
As per research, more than 52% also reported having difficulties retaining high-potential talent as well, holding on to top-performing talent around 56% was critical.
It is essential to boost the retention efforts by the employer to ensure the top performer stays for the long term and the overall revenue. All you need is to understand the needs of the employees and make them feel comfortable.
There is a fundamental change required, and therefore the need for a Talent Management system becomes vital.
Why do organizations need Talent Management solutions?
A Talent Management system covers all the aspects as well as the post-recruitment capabilities of the employee. It includes managing employee performance, goals management, and development of career, and works perfectly both in recruitment and talent acquisition.
Have a look at the talent management software users by the number of employees.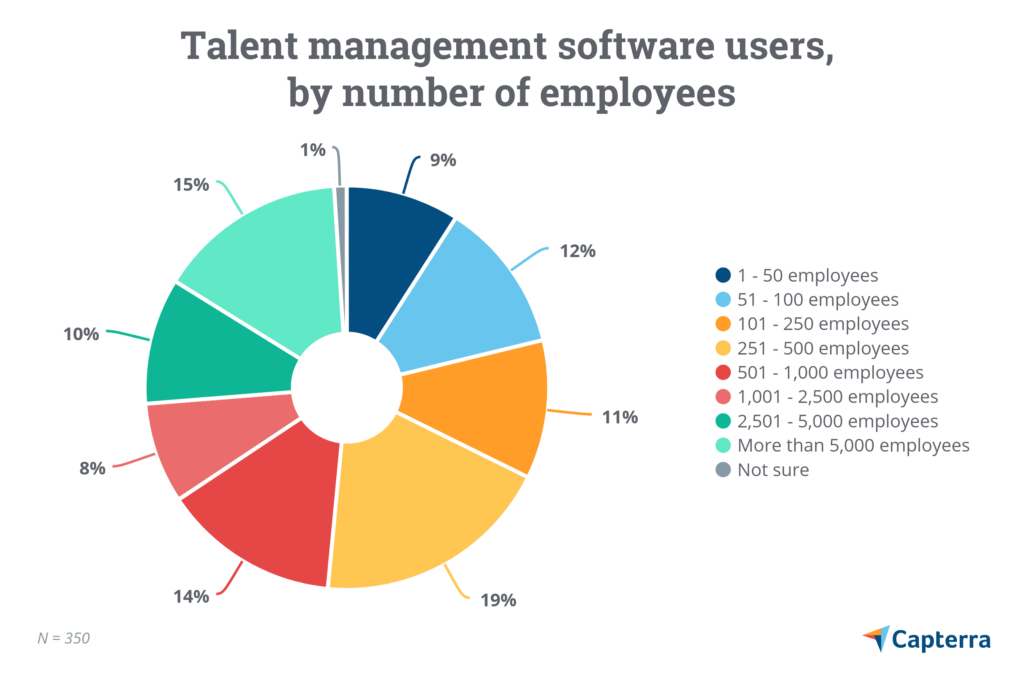 It helps businesses to achieve their long-term goals and builds an employee-centric solution. Continues to read the blog and find out some essential reasons employees leave their positions, which is totally in an employer's control.
Reasons why employees leave their positions?
1. Lack of recognition
Timely rewards and recognizing employee effort are vital when they work hard to let your organization grow. It does not have to be very expensive. Simple recognition and praise are quite enough.
It is one of the major reasons an employee is forced to leave the organization. Approximately 76% of the millennials say that they would leave the organization if not appreciated. So here comes the Talent management solutions. It allows the employees to keep a track of all the employees, how they perform, and their goals and ensure their hard work is appreciated and applauded.
2. No Open Communication
Yes, it is true. Clear communication between employees and employers is an essential factor. If a high-performing employee has any concerns or ideas, they would like to discuss them with the higher authorities, and without proper communication, all goes in vain.
It will boost their desire to work toward fully realizing their potential. Therefore, complete Talent management solutions allow seamless communication with one another. It ultimately increases productivity and lets the employee share their thoughts and ideas.
3. Poor Management
As per research, 70% of the staff leave their jobs because of a bad boss. A few examples of poor management are overworking employees, lack of flexibility, failure to respect their personal lives, and inconsistent performance management processes.
Therefore, with the help of Talent Management solutions, there is proper and fair management by the employers, and there are more chances an employee would stay.
4. Toxic Work Environment
A toxic environment at the workplace directly affects the productivity of the organization. The highly valued employees are the ones who are optimistic and thrive in an environment that spreads positivity. For mutual understanding and a better work environment, they need a sense of belonging and harmony.
How do Talent Management solutions nurture high performers?
The talent management solution market is broad and has been segmented for both small and large enterprises. There is no doubt that retaining the most talented employees is crucial to fulfilling all your organizational goals.
Therefore, the talent management system helps you integrate all the areas of the talent management function-from recruiting to performance and learning management. It streamlines all the employer's activities, thus helping to nurture high-performing candidates.
Using a proven and effective talent management system has the potential to significantly improve the effectiveness of your existing HR processes. In turn, this allows you to proactively work toward targeting your organization's future talent and recruitment challenges.
Are you looking for the best ways to engage and recognize the top talent for your organization? jiWebTech offers complete employee engagement solutions that help you retain your most valued employees!