Top-notch Ideas To Boost Your IT Help Desk Services
The rapid increase in innovation has made the lives of customers easier. However, businesses are under a lot of stress to offer the best IT help desk services. It is difficult to manage a higher level of IT issues and requests. Moreover, there is no doubt that IT services are looking to improve their IT help desk performance. But why are IT help desk services so crucial?
An IT help desk is crucial to providing technical support to users within an organization. Its primary function is to assist employees who experience problems with their technology systems. It acts as a central point of contact for users experiencing technical difficulties, offering guidance, troubleshooting solutions, and managing incoming requests.
Moreover, the quality of service provided by the help desk impacts employee productivity. Hence, improving IT help desk services is essential for the smooth operation of any business.
Statistics related to IT help desk services:
By 2023, the IT help desk software market will reach $11 billion.
A report says that 60% of customers are using help desk services.
91% of customers make another purchase after a good service experience.
According to Business Wire, the help desk market can reach $21.8 billion by 2027.
What is the importance of IT help services for businesses?
Today, opting for the latest technology has become crucial for business operations. Technology has become the backbone of many modern enterprises, from managing data and communications to streamlining processes,
Modern business relies on digital tools like computers, networks, applications, and internet connectivity. These technologies facilitate communication, data storage, processing, analysis, decision-making, and many other crucial aspects of daily operations.
However, even small issues can cause severe consequences without proper maintenance and support. Thus, every enterprise needs professional IT management services, including an effective help desk. Here are just some reasons why every business should consider investing in an IT service desk:

Enhanced Customer Satisfaction: An efficient IT service desk minimizes downtime and offers fast solutions, helping businesses retain satisfied clients. It plays a crucial role in achieving goals by handling queries and complaints effectively.
The aim objective of any business is to satisfy customers. Employee satisfaction directly influences organizational performance. Resolving clients' reported issues quickly positively impacts job satisfaction, motivation, and retention rates. Satisfied customers help promote the company internally and externally. An increased brand reputation attracts new talent and clients.
Overall, a great service desk experience contributes to higher worker happiness, reduced turnover, and improved employer image.
Improved efficiency and cost savings: Technical glitches often lead to delays in workflows. An IT service desk enables employees to focus on core business tasks instead of trying to fix technical issues themselves. The service desk eliminates errors and increases productivity by offering immediate technical support. Although investing in an IT service desk may seem like an unnecessary expense initially, it eventually pays off.
Efficient problem resolution: Technical issues may arise regularly. Therefore, it is crucial to have a reliable, centralized point of contact for employees to report issues.
An IT service desk is a single access point for all end-user support queries, offering streamlined incident management and rapid issue resolution. Consequently, downtime minimizes, allowing workers to remain productive and meet deadlines.
Standardization and consistency: Well-defined processes and procedures for handling requests and service activities enable consistent and predictable results.
Service desk specialists follow established guidelines and frameworks, which translates into high-quality responses across different situations. This standardization helps lower error rates, increasing operational efficiency and reducing overall costs.
Ideas To Improve IT Helpdesk Services
Managing an IT helpdesk can be challenging, but it is crucial to run business operations smoothly. It is at the core of business operations because it ensures minimum disruption to workflow whenever technology fails.
Hence, improving helpdesk services is necessary for companies seeking growth, stability, and satisfied customers. Here are top ideas for enhancing your IT helpdesk service: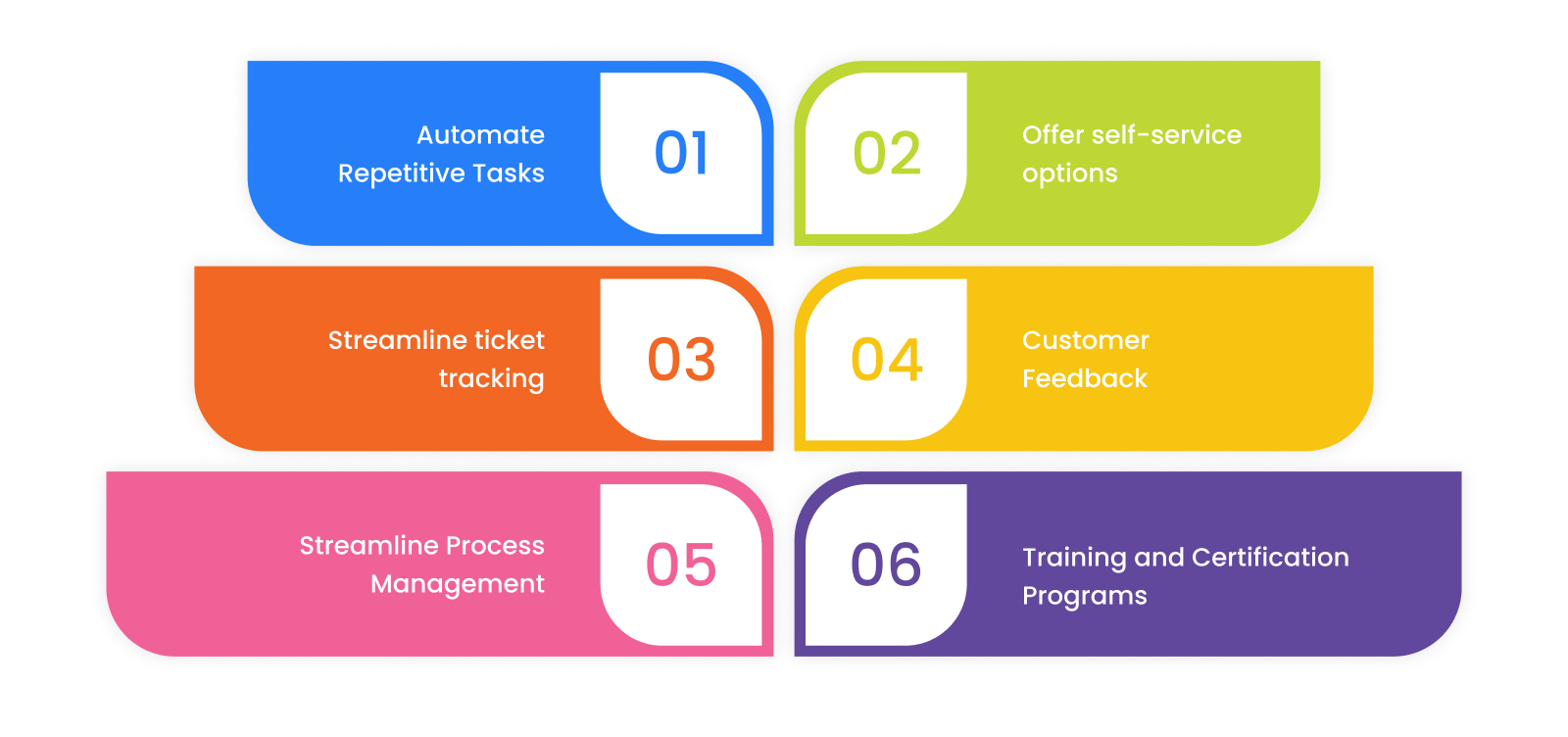 Automate Repetitive Tasks: Automating repetitive tasks can improve IT helpdesk services by reducing response times, increasing efficiency, and minimizing errors. Here are some specific ways that automation can enhance helpdesk operations:
Ticket Prioritization: Automation can sort incoming tickets based on their priority levels. It helps ensure that urgent issues receive prompt attention while less critical matters can wait until they reach the top of the queue.
Password Resets: One of the most common requests received at any helpdesk involves forgotten passwords. Admins can quickly generate new login credentials by implementing password reset tools.
Monitoring Systems: Helpdesks often struggle with monitoring multiple servers, networks, databases, and applications. Automated monitoring solutions can alert teams in advance to potential problems, allowing them to resolve issues without affecting the workflow.
Software patches or upgrades: Manual software deployments and version changes can consume lots of time and resources. Automating these processes makes it possible to perform these actions without interruption, ensuring improved reliability and availability for all users.
Offer self-service options: Ensure to have an easy-to-navigate FAQ section on your website or intranet. Users often prefer searching for answers instead of reaching out to the helpdesk. This option lowers the team load and helps users feel more satisfied. You can also consider adding video tutorials or interactive troubleshooters.
Streamline ticket tracking: Streamlining ticket tracking is vital in improving IT helpdesk services. It improves the management of customer queries and complaints. Here are five ways streamlined ticket tracking can make a difference:
Enhanced Organization: Effective tracking systems provide an organized view of all open, closed, and pending tickets. With instant access to ticket details, helpdesk agents can manage cases more efficiently and allocate resources where necessary.
Real-Time Communication: Real-time communication between helpdesk agents, stakeholders, and users becomes feasible as tickets are documented, tracked, and regularly updated. With instant notifications, emails, and SMS messages, real-time interaction boosts accountability among support staff, enhancing collaborative decision-making processes.
Faster Response Times: Tracked tickets allow managers to monitor response times for each agent and identify issues in the workflow. It helps optimize resource allocation, ensuring timely responses to high-priority, or time-sensitive tickets, resulting in greater customer satisfaction.
Accurate Analytics and Metrics: Organizations gain valuable insights into their helpdesk operations by gathering data from ticket tracking systems. These metrics help identify trends, determine areas for improvement, and benchmark performance against industry standards.
Customer Feedback: Customer feedback mechanisms such as surveys, social media engagement, and direct client interaction gather information about the helpdesk experience. Use this information to adjust services accordingly, address pain points, and make improvements where needed.
Streamline Process Management: Streamlining process management is crucial in helping improve IT helpdesk services and enhance efficiency while maintaining quality assurance standards. Here are a few advantages of streamlining process management in a helpdesk setting:
Consistency: A well-defined set of procedures, protocols, and standard operating practices brings consistency across different scenarios. All customers receive similar treatment, increasing trust in the helpdesk's ability to deliver reliable solutions.
Quality Assurance: Measurements like average hold times or customer survey scores give you a better understanding of the strengths and weaknesses within your helpdesk operation. You can fine-tune measures accordingly or adjust individual performances if needed, preserving excellent service quality.
Training and Certification Programs: Ensure that you train your employees properly and help them stay updated with industry developments and emerging trends. It is crucial to encourage them to take certifications related to software and hardware used in the company to keep expertise levels high. Also, offer various opportunities for skill development programs that help service desk representatives grow professionally.
How to choose an IT helpdesk solution for your business?
When selecting IT helpdesk services for your organization, it's crucial to consider several factors that affect efficiency and budgetary constraints.
A well-functioning helpdesk is crucial to support employee productivity, ensure secure systems, and providing technical assistance when needed. Follow these steps to select the right IT helpdesk services for your business:

Define your requirements: To determine the type of services your business needs, take factors such as operating hours, available resources, industry regulations, and infrastructure into consideration. Prioritize security measures, data protection, scalability, reliability, and ease of use. Define your budget and allocate funds accordingly while considering any potential hidden fees.
Assess the providers: Research various managed service providers who offer IT helpdesk services suitable for your business.
Moreover, focus on assessing how IT help desk service providers handle support cases, track issues, resolve problems, and maintain service quality levels. Evaluate their expertise, experience, and certifications with best practices or regulations in your sector.
Consider vendor longevity: Choose a provider with a strong track record to ensure continuity of service, as switching service providers may cause disruption and extra work for your team members.
Additionally, examine how comfortable you feel working with the selected vendor, whether they align with your corporate values and culture, and if there are opportunities for future collaboration and growth within your partnership.
Check monitoring and reporting capabilities: The ability to track critical metrics related to service delivery is crucial for identifying trends, recognizing recurring issues, improving response times, and ensuring customer satisfaction.
Verify whether the provider offers customizable reporting features and real-time monitoring to enhance efficiency and reduce mean time to repair.
To sum-up:
By implementing these measures, organizations can improve user satisfaction and reduce downtime. It helps them promote overall efficiency and productivity. With proper investment in resources and cutting-edge tools, businesses can lead to increased ROI and improved brand reputation. Successful IT help desks contribute to organizational growth and success by delivering superior support, streamlining processes, and embracing change.
Moreover, improving IT help desk services requires a comprehensive approach that involves setting up clear communication channels and prioritizing tickets. By following these steps, organizations can significantly enhance their help desk performance, reduce costs, increase efficiency, boost employee morale, and ultimately drive business success.
Furthermore, investing time and effort into enhancing IT help desk services can have long-term benefits. As technology becomes more complex, the demand for reliable and responsive support grows exponentially. Companies can ensure operational effectiveness and profitability, with a solid help desk infrastructure built around user requirements.