How Inventory Management ERP Helps To Reduce Warehouse Uncertainties?
Want to have a better knowledge of stocks available at the warehouse? Are you facing losses in business due to inappropriate inventory? Well, ERP software is imperative to streamline related processes and make them function with more adequacies. Many businesses have integrated ERP in their websites and software to collect, store, manage the supply chain for different industrial processes.
As per a report from Statista, The global enterprise resource planning (ERP) software market is forecast to grow to around 97 billion U.S. dollars by 2023.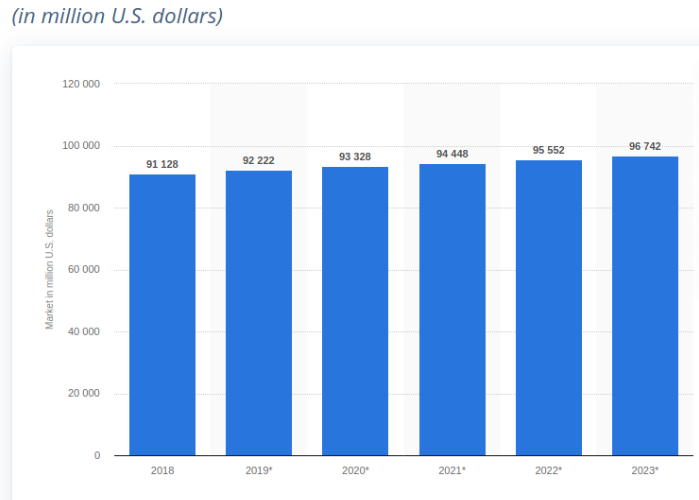 Why do you need an Inventory Management?
Inventory management, in a nutshell, is the management of your inventory and stocks. It comprises ordering, stocking, producing, planning, and restocking the correct inventory so that you keep yourself updated with all the goods and there is very minimal wastage. If you don't have good inventory management at your place, you might deal with stock emergencies and, due to the lack of stock, you may end up losing your customers.
Whether you own a clothing shop, restaurant, bakery, or grocery shop inventory control has always been a challenging task. Here's how inventory management solutions help you achieve the desired results:
Keeps track of the stock and offers a centralized view

Saves your cost as it analyses and makes stock reports.

It helps to meet your customer satisfaction by delivering the goods on-time improving your delivery management.

Manages planning and forecasting by analyzing the trends of data

Helps to save time and money by maintaining a proper record of inventory in place.

It helps you to quickly view and react to surplus inventory.

How ERP solutions streamline your Inventory Management?
Using an ERP system for inventory management is one of the smartest decisions a business owner can make. There is no need to use spreadsheets as the process is automated that eliminates human errors. Here is, how ERP solutions streamline your inventory management:
1. Tracks your Inventory
Although with inventory management, you know what stocks you have on-hand. But if it is not integrated with your entire organization, it won't be able to optimize your stocks. Inventory should be fresh, keeping old goods isn't a good tactic.
When you integrate your inventory management with the ERP, you could achieve a critical balance. All the insights about the current stock, fall/rise of stock can be significantly optimized. It gives you instant access to manage and track your inventory in real-time making production more efficient and financial reporting simpler.
2. Cost-Saving
One of the most precious benefits ERP offers is cost-saving. When you keep the records updated you know what stocks are doing well and what stocks are just covering the shelf space. Moreover, you know if there is a surplus or fall of the stocks.
Also rather than paying for different systems for the business processes, ERP is a single and all-in-one solution that can handle all the business processes reducing overall workload and minimize expenses.
3. Visible Supply Chain
Handling the supply chain is the most complex process until the inventory is not managed properly by the organizations. It involves multiple parties or vendors who supply the needed goods. But with the traditional methods of inventory management, the supply chain got disturbed with the wrong information of products update.
With the ERP this is not a problem any more. As the inventory management is integrated with ERP tools, you get real-time reports of the inventory and the details to be shared with the vendors so that you are updated with the stocks.
4. Forecasting, Restocking, and Managing Excess Inventory
With an ERP system, you can keep a track of sales, purchases, logistics so that you have the right inventory levels to match your business needs and standards. ERP is in synchronization with the inventory management for all the operations which makes it simpler to track, forecast, and restock the inventory, ensuring that you have it in time.
With real-time inventory management, it automatically reorders products or sends reminders to the managers letting them know to update their inventory.
Inventory management has become a necessity to streamline business operations. If you don't have good control over the inventory you might not generate profits for your business. A cloud-based ERP system can be integrated to handle all your business operations. ERP inventory management systems are designed to reduce manual labor, by automating and streamlining processes — all of which go hand-in-hand with growing a business.
Don't let inventory fall or surplus decide the fate of your business. Invest in a better inventory management solution and organize all your business operations efficiently.
To know how jiWebTech can help you, Contact us!